Information Design & Development (MSc)
overview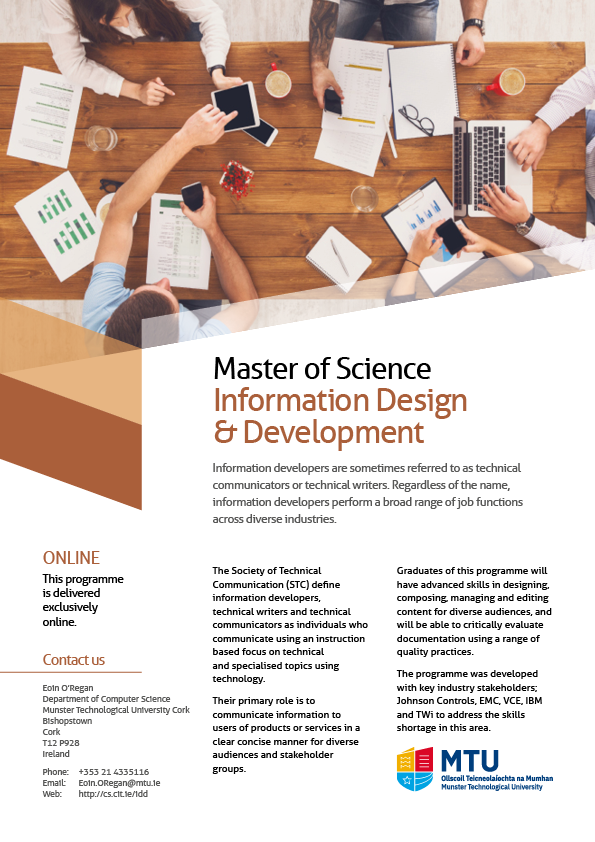 This is a graduate conversion programme and is open to Level 8 graduates from all disciplines. Information developers make information more useable and accessible. Job opportunities include: Technical Writers & Editors, Information Architects, Instructional Designers, Localisation Specialists, Visual Designers, Web Designers, Trainers and E-Learning Developers.
The value that information developers deliver is twofold; they make information more useable and accessible to those who need that information, and in doing so, they advance the goals of the companies or organisations that employ them. The following is a partial list of the different jobs within information development: Technical Writers & Editors, Information Architects, Instructional Designers, Technical Illustrators, Localisation Specialists, Usability & Human Factors Professionals, Visual Designers, Web Designers & Developers, Trainers and E-Learning Developers.
If it is not worth documenting, it is not worth anything. Information Developers are individuals who bridge the gap between subject matter experts and that of the end user. The role of information developers is becoming increasingly important given that society is being driven by technology and information developers provide the voice in communicating how issues incorporating technology are framed and developed. The Society of Technical Communication (STC) define information developers or technical communicators as individuals that communicate using an instruction based focus on technical or specialised topics using technology. In essence, information development and technical communications ensures that designs, products, systems and methodologies are documented and conveyed to their target audience to maximise its business value to the organisation. Click this link or the image over to download the programme flyer which contains links to the complete list of modules.
LEADING TECHCOMM EXPERTS
Industry experts, academic experts in the field of XML, technical communication and information experience deliver modules on this programme.
programme aim
A professional master's degree programme in information design and development will provide students the opportunity for in-depth study of the advanced rhetorical, compositional theories, project management and technical skills necessary for them to be leaders in designing, composing, managing and editing content using a standardised methodological approach. The programme reflects the fact that information developers require skills within a nexus of competing discourse communities (such as science, business and humanities).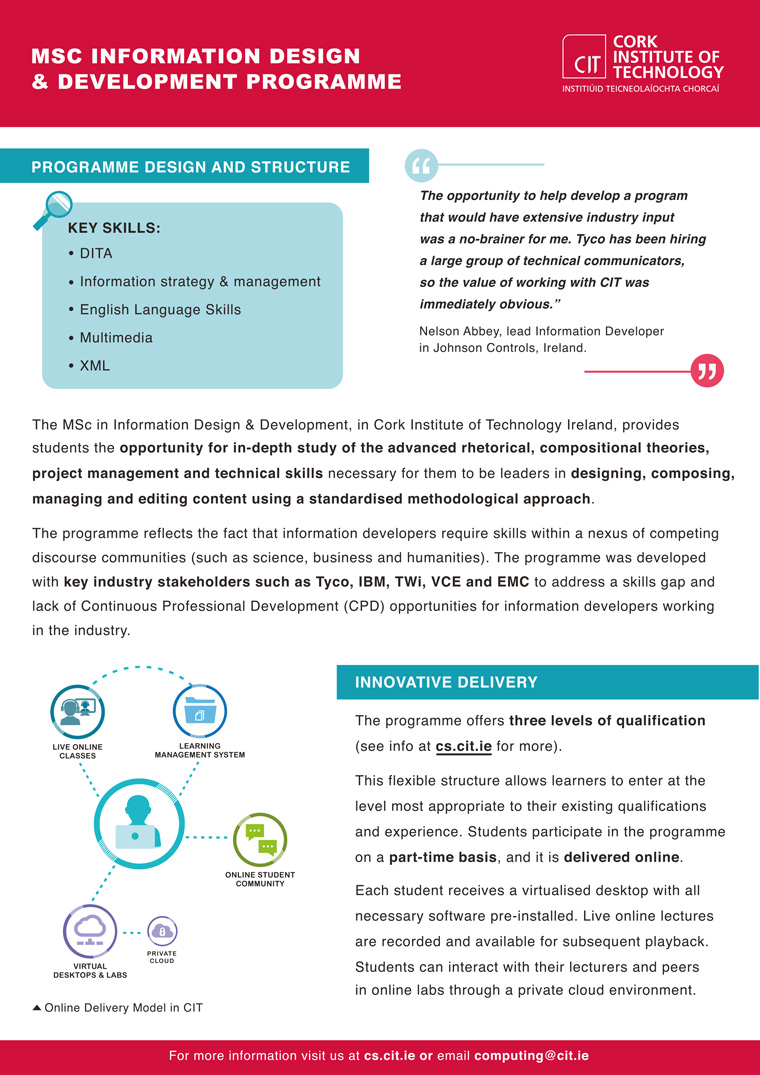 A pdf of the programme poster is also available here.
Who should apply for this programme?
Do you come from a humanities background and want to move into the field of technical communications?
Are you a working as an engineer or developer and want to move into the field of technical communications?
Are you working as an information developer and want to advance your career with a professional master's degree in the area?
Apply now if you can answer yes to any of the questions above.
What skills will I learn?
Information Design and Development - information developers need to develop a rigorous standard in the production of clear, concise technical documents using correct English. This programme helps develop these skills. Please click here or the programme schedule button for full module details.
Structured Content & DITA - XML and in particular Darwin Information Typing Architecture (DITA) is a major technological advancement to the field of information development and provides a platform independent, vendor neutral source language for publishing documentation to any output format. Given the benefits of XML/DITA to the information development process, information developers are now required to understand the technology and embed it into their everyday work practices. As part of this programme students will learn skills in how to develop structured content using DITA.
Project Management - the use of XML/DITA introduces new challenges in project management and best practices. Information will no longer be developed as monolithic documents but instead a topic based approach will be used in modern day information development practices. Use of topics will allow the creation of standalone information solutions that can be easily reconfigured and reused to suit various audience stakeholders at a reduced cost of production. Managing topics compared to book-oriented development introduces new complexities in estimating, scheduling and tracking projects and in this programme students will be given the skills to deal with these complexities.
Audience and research skills - Knowing and understanding your customer is key to being a successful entrepreneur. The same principle can be applied to information developers where knowing or anticipating who will read your document is key in determining how effective the content will be. Information developers need research skills to investigate a particular topic and to understand their audience this information, they can then adapt their writing style and adjust the voice or tone of the document to acknowledge different stakeholder groups.
Graduate Profile
Under the banner of information development, the role may also be referred to as technical communicators, documentation specialist, information architects, editor, or go by another name. Regardless of the name, information developers perform a broad range of job functions across diverse industries. Their primary role is to communicate information to users of products or services in a clear concise manner for diverse audiences and stakeholder groups. At the end of this programme students will be able have advanced skills in skills in designing, composing, managing and editing content using a standardised methodological approach for diverse audiences; and critically evaluate documentation using a range of quality practices.
ABOUT THE​ DEPARTMENT OF COMPUTER SCIENCE
The Department of Computer Science at CIT is one of the largest Computer Science departments in Ireland. We offer a range of modern undergraduate programmes and a host of opportunities at master's degree and at PhD level. Our industry engaged programmes match the needs of our economy and have an excellent reputation for producing the most employable computer science graduates in the region. These highly skilled graduates are in huge demand and contribute significantly to the development of the region. As technology plays a greater role in our society the growth in the demand for these graduates will continue year after year.
ADMISSION REQUIREMENTS

Applicants who hold a Level 8 degree in any discipline are eligible to apply for the MSc in Information Development programme. Applicants who do not hold a Level 8 degree but have significant industrial experience will be considered on a case by case basis.
online APPLI​CATIONS
Enquiries
Eoin O'Regan
Department of Computer Science
Eoin.ORegan@mtu.ie +353 (21) 433 5525
Applications are currently closed.