Nigeria Fairs April 2019
Abuja thursday 25th april - lagos saturday 27th APRIL 2019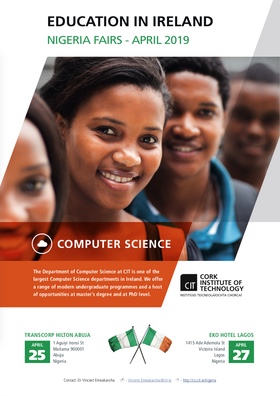 Come along to meet staff from Cork Institute of Technology (CIT) at the Education in Ireland fairs in Nigeria. Lecturers from the Department of Computer Science will be available to answer your questions at fairs in Abuja on the 25th April and in Lagos on the 27th April. You will learn about the excellent master's and bachelor's degree programmes on offer in CIT and hear about the success of students from Nigeria. The department's industry aligned programmes offer graduates exciting and rewarding opportunities in the fast growing IT sector in Ireland.
Please click on the brochure to the right or click on the programme flyers on this page to download take away pdf flyers. Each flyer offers a brief overview of each programme and also includes a full programme schedule. The schedules have hyperlinks to module descriptors allowing you to review programme details. Further information about each programme can be accessed via the main web navigation menu on this site.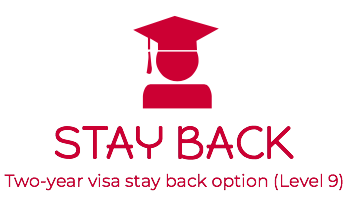 Our department offers two full-time master's degree programmes in Artificial Intelligence and Information Security. Both are modern cutting-edge programmes that can only be found at Cork Institute of Technology. With strong industry links and and the two year visa stay back option for Level 9 master's degree students, graduates of these programmes are in high demand in Ireland.
Cyber Security and Artificial intelligence are fast growing areas of the technology sector, a sector where demand for graduates currently outstrips supply.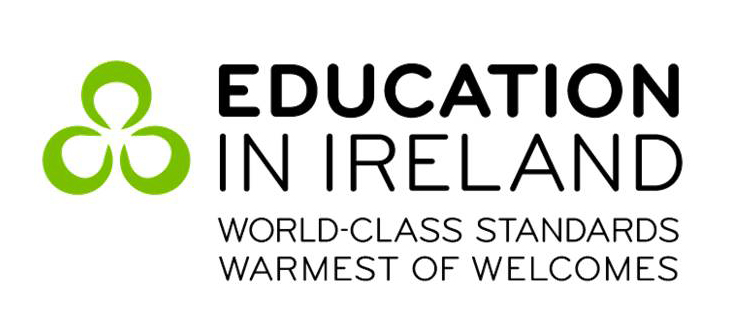 Further down this page you can also read testimonials from students.
Please read on to learn more about these and other programmes offered by the Department of Computer Science.
ART​IFICIAL INTELLIGENCE (MSC)
Artificial intelligence is a field of computer science that enables computers and machines to perform tasks normally requiring human intelligence. Its many applications range from chess-playing robots and autonomous cars to speech, image, and language processing, robotic manufacturing, and surveillance systems. Our Artificial Intelligence (MSc) programme provides a technical deep-dive into the area of Artificial Intelligence. The programme produces AI graduates with a highly relevant skill set in AI topics. You'll learn how to use and develop intelligent computer systems that can learn from experience, recognise patterns in vast amounts of data and reason strategically in complex decision making situations. The programme places significant emphasis on learning by doing. It adopts a practical, hands-on approach to learning, where all modules are assessed using continuous assessment methods.
INFORMAT​ION SECURITY (MSC)
Information security can be defined as the protection of information and systems from unauthorised access, use, disclosure, disruption, modification, or destruction in order to provide confidentiality, integrity, and availability. Today, Information Security is becoming a function of increasing importance for the continued operation of organisations. Our Information Security (MSc) programme has a strong applied emphasis which is supported by in-depth theoretical knowledge. The programme was developed with significant input from industry's leading experts. Designed to address the widening practical and theoretical skills shortage in Information Security the programme delivers content that follows best practice in industry. The continuing trend of skills shortage in this area is predicted to increase the global demand for graduates.
Please click on one of the images above to download take away pdf flyers for the Artificial Intelligence (MSc) and the Information Security (MSc) programmes.
testimonial - ADEDAMOLA AFOLABI - information security (msc)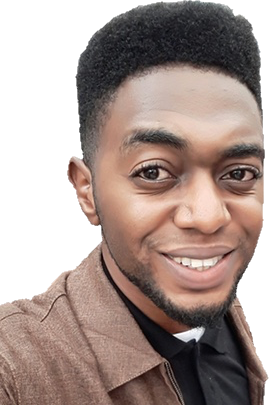 My name is Adedamola Afolabi and I am from Nigeria. I was born in Lagos but was based in the capital Abuja before moving to Ireland to further my studies. I studied a Computer Science degree at undergraduate level before proceeding to the master's programme at Cork Institute of Technology.
I selected the MSc in Information Security because of my interest in security. Following the hacking, data breaches and other attack vectors that occurred in 2015/2016 I began to research these topics. I really got interested in the area and decided to take a step further to learn more and this has turned out to be one of the best decisions that I have ever made.
What I liked most about the programme were the modules. They are very hands-on and give you the necessary skills needed to work in this industry. The programme has also exposed me to current trends in the cyber security world and best practices to defend against threats.
It was not so difficult to find a job in Ireland. I made several applications for positions and in the end I had a number of offers. As a result I was able to secure a job towards the end of the programme. I am currently working with the IBM security team which is based in Cork. I am getting very good experience, working with a security devops division where we develop and implement different security frameworks, infrastructure deployment as well as automation with the IBM cloud.
I would advice anyone who is interested in joining the MSc in Information Security programme to take it very seriously, It's a very interesting and exciting programme but requires commitment and dedication to grasp. However, it will definitely start to pay off even before the end of the programme.
irish national newspaper coverage
The following article was recently published in the Sunday Independent, Ireland's highest selling Sunday newspaper. The article features Adedamola Afolabi who is originally from Lagos in Nigeria and now works for IBM Security in Cork.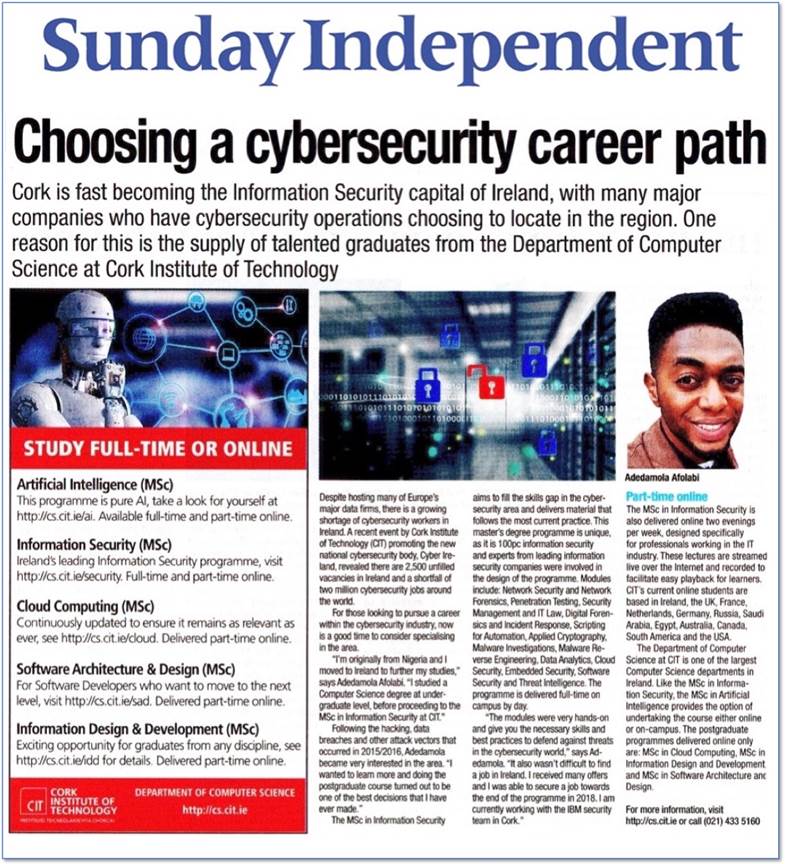 The following article was recently published in the Irish Independent, Ireland's highest selling daily newspaper. The article features Praveen Joshi who is originally from Bangalore, India.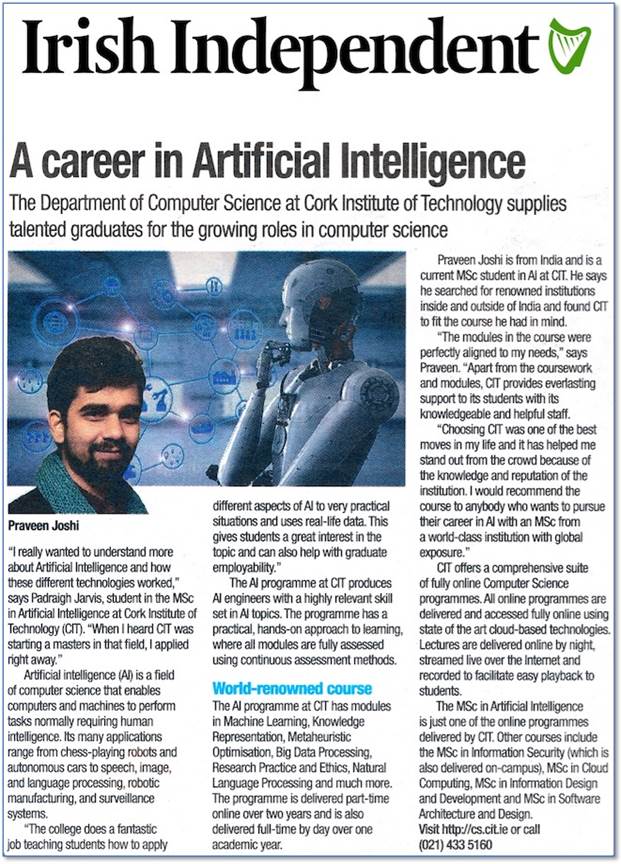 bachelor's degree programmes (BSC)
Ireland's reputation as a centre of software excellence is unrivalled in Europe. It is home to over 900 software companies, including both multinational and indigenous firms, employing 24,000 people and generating €16 billion of exports annually. Almost every globally recognised software company has a base in Ireland. This has not only catapulted Ireland to being one of the major global players in the software sector, but has created a deep pool of talent that has turned Ireland into a hotbed for indigenous firms. The sector's wide-ranging activities include Software Development, R&D, Business Services and EMEA/International headquarters. As the world's second largest software exporter, Ireland is recognised internationally as a leading location for companies in the software sector. Sixteen out of the top 20 global technology firms have strategic operations in Ireland, including Microsoft, Google, Apple and Facebook.
In the Department of Computer Science we offer three bachelor's degrees, all designed to support the growing ICT industry in Ireland. The BSc (Hons) in Software Development degree provides students with the essential skills to become a software engineer of first-rate software using a variety of languages and modern platforms. The BSc (Hons) in Computer Systems focuses on a number of key developing areas including computer networking, embedded systems and the Internet of Things (IoT). The BSc (Hons) in IT Management is our flagship Information Technology degree programme with an excellent curriculum that combines deep technical modules with IT management modules.
advanced en​rty
We offer advanced entry into years two, three or four of our programmes for applicants who have studied compatible computer science programmes in a higer education institution in Nigeria. Please apply directly to Dr Vincent Emeakaroha (email address on flyers) with full academic transcripts and an up to date curriculum vitae.
Please click on one of the images above to download take away pdf flyers for the Software Development (BSc), IT Management (BSc) and the Computer Systems (BSc) programmes.
testimonial - chioma Okoye - software development (bsc)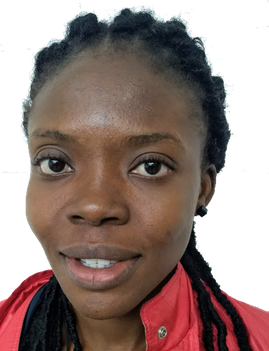 My name is Okoye Chioma Callista and I am from Anambra State in the east part of Nigeria. This year I moved to Cork to study the BSc (Hons) Software Development degree at Cork Institute of Technology (CIT).
I selected the BSc (Hons) Software Development course after reviewing courses in many other universities. I'm really happy that I selected CIT because indeed it is actually where I was meant to be. The course exposes you to different opportunities in life and the equipment required for your journey are all available.
I love everything about CIT from the surroundings to the academic plan down to the social events, it's all great. My candid advice to my fellow Nigerians is to be determined and know what you want. I promise you won't regret coming to CIT to achieve your goals. Staff are always there to assist you and guide you on your way to success.
TESTIMONIAL - Michael Ikebudu - SOFTWARE DEVELOPMENT (BSC)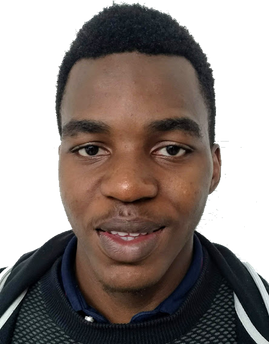 My name is Michael Ikebudu and I am from Anambra State, Nigeria. I did my high school in Port Harcourt and moved to Ireland to do my University foundation programme. I am currently studying the BSc (Hons) Software Development degree at Cork Institute of Technology (CIT).
I selected the BSc (Hons) Software Development degree because I always had the desire to explore how computers carry out instructions and how they are programmed to carry out those instructions. Software Development also allows me to express my creativity through creating software and solving mathematical problems by thinking logically. Let's not leave the point that we are in a digital age where software developers are needed.
What I like most about the BSc (Hons) Software Development degree programme is that it does not only cover how to design and analyze software but also other aspect of computing such as computer security, web development and database management. Also, there is a paid work placement in the third year which can last for up to nine months starting in January.
My transition from Nigeria to Ireland was nice but my first day in Ireland was strange for me because I didn't know anywhere. In less than a week I was able to figure most of the places in Cork city as it is a small city compared to any city in Nigeria. I also started to adjust to the weather as it was cold, windy and rainy on my month of arrival.
What I like best about CIT is that all the classes have labs to actually practice what I learnt in class and the school is situated in a friendly and fun environment.
My advice for anyone coming to study Software Development in CIT is that they shouldn't think twice because it is a lovely course and that they should be committed to the course. You should also be good at time management allowing you to enjoy a school-life balance.
testimonial - Avinash Nagarajan​ - Computer systems (bsc)
I'm Avinash Nagarajan, a third year Computer Systems student in CIT. While Indian by birth, I moved to Ireland in 2016 to pursue my dream about building a career in the IT industry.
Being an ambivert by character, I enjoy meeting new people as well as sitting in my room on a rainy day with a nice problem from one of the many coding competitions out there.
It is my strong belief that, hard work encapsulated with being humble beats talent and makes the dream work.
Moving to Ireland wasn't always in the plan I laid out for my future during high school. While browsing through the modules offered by some of the top colleges in India, I realised that the technology that was being taught was outdated and not in par with what the current industry was looking for. After extensive research, I shortlisted some of the best colleges for Computer Science in Europe and Asia. After weighing the pros, cons and budget expenditure for the course it was clear to me that Ireland was where I wanted to study. Cork Institute of Technology was already well renowned for its Computer Science Department and when I received the scholarship I was delighted to accept the offer of a place on the Computer Systems programme. That programme had grabbed my interest since it had a good mix of both software and networking modules. It was clear cut that this institution was where I wanted to spend the next 4 year of my college life.
The work atmosphere that the lectures build is great, it involves a more hands on approach to a particular topic rather than the traditional age old theory oriented approach which is what I find the most fascinating about this programme.
In January of year three we head out on a nine month paid internship with one of the excellent IT companies in the region. I have been looking forward to this since my first day in CIT. One of the most important reasons behind my decision of moving to Ireland, was that many of the IT firms were setting up their roots in Ireland. Firms such as Google, Facebook, Teamwork and so on. The opportunity to work in the industry while still in college and get actual industry experience is great in terms of the way I intend to build my career.
My advice to anyone who is thinking about joining one of the excellent undergraduate programme in the Department of Computer Science is to set clear goals about where you intend to see yourself at the end 4th year on day one of year one.
Educatio​n in Ireland Fairs - APRIL 2019
Meet staff from the Department of Computer Science in Abuja and Lagos on these dates:
Thursday 25th APRIL 10:00-17:00

TRANSCORP HILTON ABUJA
1 Aguiyi Ironsi St
Maitama 900001
Abuja
Nigeria

Saturday 27th APRIL 09:00-17:00

EKO HOTEL LAGOS
1415 Ade Ademola St
Victoria Island
Lagos
Nigeria