H2020
H2020-SU​-ICT-2018-2020
We are interested in participating as a partner in H2020-SU-ICT-2018-2020 calls and have industry partners in the area of cybersecurity, IoT, smart cities and many other areas who also willing to form part of potential proposals. We are particularly interested in acting as work package or task leaders in building cybersecurity competence networks and the integration of artificial intelligence and cybersecurity systems. Please click this link or the image over to download a pdf flyer about our capabilities and the deep links that we have established with major industry partners.
Dep​artment of Computer Science
The Department of Computer Science at Cork Institute of Technology (CIT) is one of the largest Computer Science departments in Ireland. We offer a range of modern undergraduate programmes and a host of opportunities at master's degree and at PhD level. Our industry engaged programmes match the needs of our economy and have an excellent reputation for producing the most employable computer science graduates in the region. As technology plays a greater role in our society the growth in the demand for these graduates will continue year after year. We offer a range of online and full-time on campus master's degree programmes. We also have the knowledge and infrastructure to develop cybersecurity skills at all academic levels.
Ireland's Information Se​curity Capital
Cork is fast becoming the Information Security capital of Ireland with major companies choosing to locate in the region. The following is a short list of vendor and non-vendor companies who have Information Security operations in Cork. AlienVault, Cylance, eSentire, FireEye, Forcepoint, GetVisibility, IBM, VMware, Johnson Controls, Keeper Security, McAfee, McKesson, Nuix, Qualcomm, SmartTech, Solarwinds, Sonicwall, Sophos, TransUnion, Trend Micro, UTRC and more to follow.
Several companies who have established operations in Cork in the past few years have stated that a key factor in their decision to locate in Cork was the talent pipeline available at undergraduate and at postgraduate level in the Department of Computer Science at Cork Institute of Technology. As a result of close engagement with these companies we have extensive and direct contact with industry partners. We also have a reputation for being at the forefront in providing academic programmes and research to support these industries.
For more infomation about Ireland's Information Security Capital please see this LinkedIn article.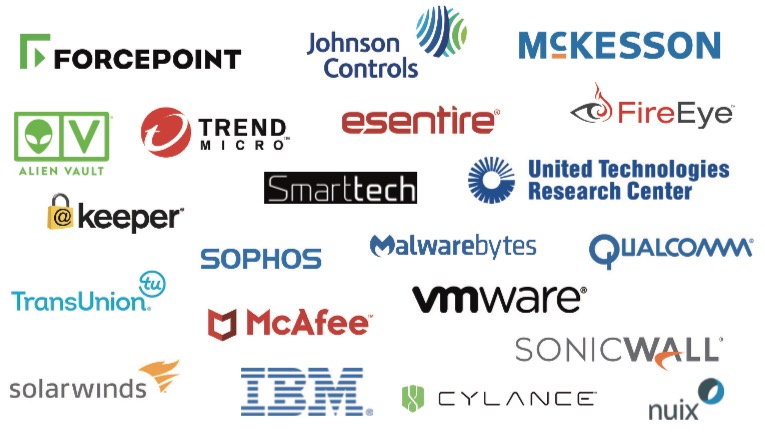 We also offer a range of related programmes at master's degree level, some of which are briefly described below. Please click on any of the images below to download a flyer about each programme.
MSC IN ARTIFICIAL INTELLIGENCE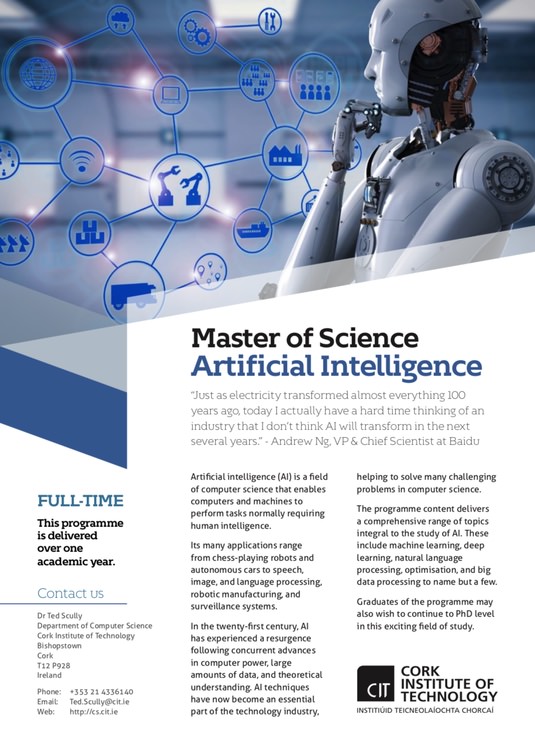 This master's degree programme provides a technical deep-dive into the area of Artificial Intelligence (AI). The programme will produce AI graduates with a highly relevant skillset in AI topics. Students learn how to use and develop intelligent computer systems that can learn from experience, recognise patterns in vast amounts of data and reason strategically in complex decision making situations.
The programme places significant emphasis on student learning by doing. It adopts a practical, hands-on, approach to learning, where all modules are fully assessed using continuous assessment methods.
The programme contains challenging and interesting modules delivered by lecturers who are experts in AI. Students will also be presented with opportunities to work on modern research case studies linked to the domain expertise of staff in the department. The programme places signifcant emphasis on student learning by doing. It adopts a practical, hands-on, approach to learning, where all modules are fully assessed using continuous assessment methods.
MSc in Information Secur​ity
The MSc in Information Security programme has a strong applied emphasis which is supported by in-depth theoretical knowledge. The programme was developed with significant input from industry's leading Information Security experts.
Designed to address the widening practical and theoretical skills shortage in Information Security the programme delivers content that follows best practice in industry. The continuing trend of skills shortage in this area is predicted to increase the global demand for Information Security graduates.
Modules in this programme include Applied Cryptography, Digital and Network Forensics, Penetration Testing, Analytics, Network Security, Malware Investigations, Cloud Security, Information Security Law, Malware Reverse Engineering, Embedded Security, Software Security,Threat Intelligence, Offensive Security. Hands-on labs are provided through CIT's private cloud giving students 24/7 access to state-of-the-art Information Security labs.
Clo​ud Computing (MSc)
This programme aims to produce graduates who have the required technical skills to exploit and be successful in the expanding area of Cloud Computing. The convergence of the cloud with big data has created additional opportunities for IT professionals to gain valuable insights into their business data. Such insights are critical for companies to maintain their competitive edge, increase their revenues and deliver new innovative services and solutions.
The programme aims to address the skills gap in this area so the graduate is equipped with not only the skills to store the data in the cloud but also to derive meaningful analytics from it to deliver true business value.
The content seeks to reflect current and likely future practice in cloud planning and management, the design and management of virtual environments, data analytics, the consolidation of data centres, security techniques in multi-tenant virtualised environments and related areas that contribute to the building of both private and public cloud environments.
Softw​are Architecture & De​sign​ (MSc)
In software, architecture spans a number of pillars which include the application, system, software and enterprise. Application architecture represent the fundamental building blocks of software and at this layer an architect needs to make decisions about the programming language, the constructs, libraries and frameworks that will be used to develop the software. It is rare that an application lives in isolation and typically a system is composed of multiple collaborating applications. At this system level, software architects are concerned about issues such as reliability, interoperability and integration.
Applications are developed using software and software architecture is concerned with the significant elements of the software system from the structure and design of the code to deployment of that code to the live environment. At this layer a software architect is concerned about issues such as security, reliability, authentication, performance etc.
Across these pillars, software architects make architectural decisions that shape a system and design decisions to ensure his/her vision is realised. In this programme, students will learn skills to fulfil the role of software architect or senior member of the development team.
This programme is designed to form part of the evolutionary process that a software developer undertakes to undertake this role as software architect in their respective organisation.