Web Development BSc (Hons)
Introduction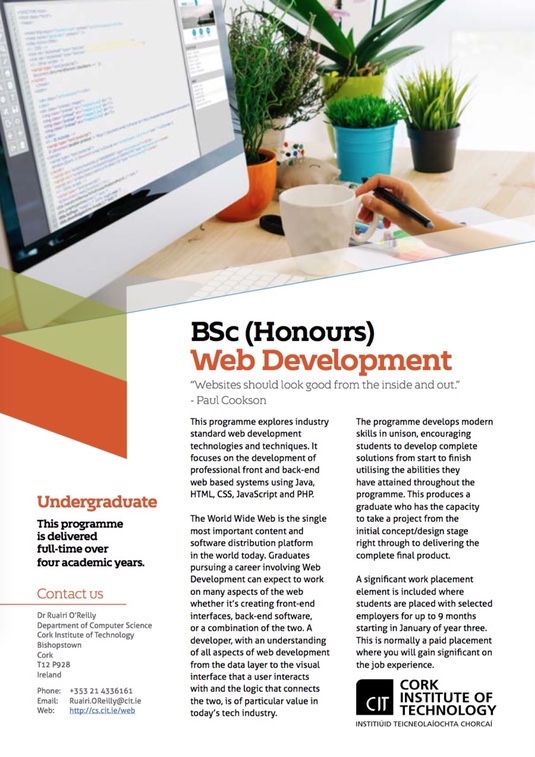 The BSc (Hons) in Web Development programme shares the core modules found in the BSc (Hons) in Software Development programme. The Web Development degree programme also explores industry standard web development technologies and techniques. It focuses on the development of professional front and back-end web based systems using Java, HTML, CSS, JavaScript and PHP.
The World Wide Web is the single most important content and software distribution platform in the world today. Graduates pursuing a career involving Web Development can expect to work on many aspects of the web whether it's creating front-end interfaces, back-end software, or a combination of the two.
A developer, with an understanding of all aspects of web development from the data layer to the visual interface that a user interacts with and the logic that connects the two, is of particular value in today's tech industry. Click this link or the image over to download the programme flyer which contains links to the complete list of modules.
A MODERN INDUSTRY-LINKED DEGREE

The programme develops modern skills in unison, encouraging students to develop complete solutions from start to finish utilising the abilities they have attained throughout the programme. This produces a graduate who has the capacity to take a project from the initial concept/design stage right through to delivering the complete final product. Please click here or the programme schedule button for full module details.
Work Pl​acement
A significant work placement element is included where students are placed with selected employers for up to 9 months starting in January of year three. This is normally a paid placement where you will gain significant on the job experience.
Possible Areas of Employment and Career Opportunities
You will have career opportunities in Cork, Ireland and abroad, with large multinationals and also with smaller Irish companies such as Apple, Teamwork, Media, TV, EMC, Johnson Controls, and many others. Web Development graduates work in many roles, including the following:
Web Developer
User Experience Developer
Back-end Developer
Web Designer
Robert Gabriel is a graduate of the BSc (Hons) in Web Development degree programme. Here, Robert is interviewed after graduation and taking up a full-time position with Teamwork. In the video Robert talks about his experience as an intern in his third year of his undergraduate pprogramme.
Graduate Profiles
For testimonials from previous graduates, please click here.
ABOUT THE DEPARTMENT OF COMPUTER SCIENCE
The Department of Computer Science at CIT is one of the largest Computer Science departments in Ireland. We offer a range of modern undergraduate programmes and a host of opportunities at master's degree and at PhD level. Our industry engaged programmes match the needs of our economy and have an excellent reputation for producing the most employable computer science graduates in the region. These highly skilled graduates are in huge demand and contribute significantly to the development of the region. As technology plays a greater role in our society the growth in the demand for these graduates will continue year after year.
Contact Information

Dr Ruairi O'Reilly
Department of Computer Science
T: +353 (21) 433 6161
E: ruairi.oreilly@cit.ie